HMC Channel 20 – Our own TV station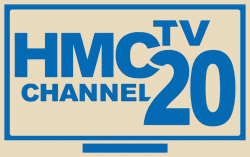 Hershey's Mill is an active, over 55, adult community consisting of over 1700 homes and is served by its own cable TV station. Click for history of the television station.
Click to view HMC-TV's Happenings Programs on your computer through the internet.
Channel 20 distributes a Monthly HM Guide & Digest to residents.
---
Channel 20 is on the air 24 hours a day, 7 days a week.
HMC-TV is a volunteer-operated, self-produced, non-profit community TV station. "Happenings" is a self produced program available on TV and on the Web. Also, there is a computerized bulletin board messaging system on TV.
Hershey's Mill has its own Web site. The address is www.hersheysmill.org.
Channel 20's email is hmctv@comcast.net.
The studio is located at 20 Hershey's Drive, near the Main entrance to Hershey's Mill. Over 50 volunteers consisting of advertising sales specialists, studio set designers, cameramen, video editing technicians, accounting clerks, and many more that are responsible for keeping the station on the air and moving forward.
If you are having a problem with Cable Television call Comcast at 855-638-2855. For further information, see our page on this website.
---
On this website, we have a Calendar which has activities and events similar to the month's guide with a few updates.