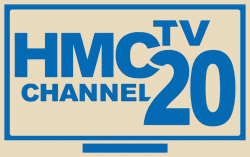 Channel 20 to HMCTV
by Don Trauger – Kennett
Channel 20 began in 1993 founded by Milton Brown then a resident of Newbury Village. He felt this community needed a presence on cable TV to provide communications and entertainment to the residents of Hershey's Mill. This basic concept has not changed but it has been expanded to fill the needs of this present community. Along with the TV presence our first TV-Guide was published in April of 1997. It consisted of only 4 pages, 2 of them in black and white. The inside pages showed the grid for the Happenings program times, movies, and tee times. We only had 3 print ads in that issue out of a total of 7 advertisers. Obviously it was a small start but it was the beginning of better things to come.
As we expanded our needs outgrew our facilities of the Paoli room in the Community Center
additional office space, a meeting room, and storage. Our growth and operation of Ch. 20 (now HMCTV) is completely paid for by the advertising revenue we receive from our advertisers. Residents do not pay anything toward the operation of Ch. 20.
At the present time the TV-Guide & Digest has been expanded to over 60 color pages/issue including numerous articles of community interest. Our advertising now includes over 60 advertisers that have joined us. All this would not have been possible without our dedicated volunteer staff which has been instrumental in the ongoing success of our station.
Another HMCTV event is our summer concert series which is a big favorite. We try to book the bands that play the songs we all remember. It's a great summer party!
We also have our own web site at www.hersheysmill.org. This community web site provides access to the latest Activities Calendar which is updated weekly, some village events, and many other interesting links. Of course Tech Tips is also there which has past articles that have appeared in this column. In February 2010 we put HMCTV on the Internet with the ability to show our Happenings program. To view Happenings on your computer go to our web site and click on Happenings, then click on Happenings TV program. If you have missed a show or vacation in Florida in the winter and want to stay in touch, Channel 20 is at your fingertips.
For most of Hershey's Mill's history HMCTV was Channel 20. Now that we have moved to Verizon FIOS, it is at channels 1970 and 1971.
HMCTV is a 24 hours/day, 7 days/week, 365 days/year community TV station that offers our own Happenings program, popular movies, a  computerized bulletin board and summer concerts. We also publish the monthly TV-Guide & Digest and a yearly Resident Directory.