Technology Tips – Published July 2016 in the Guide and Digest
by Don Trauger – Kennett
Customize the Action Center of Windows 10
In the following picture of the Action Center, you can quickly and easily adjust your screen brightness, turn Wi-Fi on or off, switch on Quiet Hours (Windows 10's notification-silencing feature), and more. You can collapse a portion of the Action Center window, and when you do, only four quick actions will be visible. You can choose which four appear here. To open the the Action Center, click the square icon near the clock. It may be all white indicating you have notifications or mostly black with 1 or 2 white lines meaning you have no notifications.
Open the Settings app, click System, and then Notifications & actions. Under the Quick actions heading, you'll notice four boxes, each representing one of the four actions that remain visible at all times. Click the boxes to get a menu that lets you pick and choose which actions will get one of the four available slots.
Toggle notification options
Under the Notifications subheading on the same Settings page, you'll find a handful of general options that you can toggle on and off:
Show me tips about Windows: When this is switched on, Windows 10 will occasionally serve up tips and tricks through its notifications feature. If you aren't an experienced Windows user, you may find these useful; if you're more knowledgeable, you may find these annoying.
Show app notifications: When turned on, you'll receive notifications from apps installed on your PC.
Show notifications on the lock screen: The lock screen appears before you sign in with your Windows password and before your Desktop screen. If you have setup your PC without the password sign-in option, you will not see the Lock screen.
Show alarms, reminders, and incoming VOIP calls on the lock screen: If you're concerned about privacy, you may want to turn this off, but you may also find it convenient to see your appointment reminders at a glance.
Hide notifications while presenting: When turned on, Windows 10 will prevent notifications from appearing onscreen while you're giving a PowerPoint presentation.
Silence Certain Notifications
Would you rather not get an alert every single time you get an email message? You'll be happy to know that you can switch off notifications on a per-app basis. While at Settings > System > Notifications & actions, scroll down to the "Show notifications from these apps" subheading.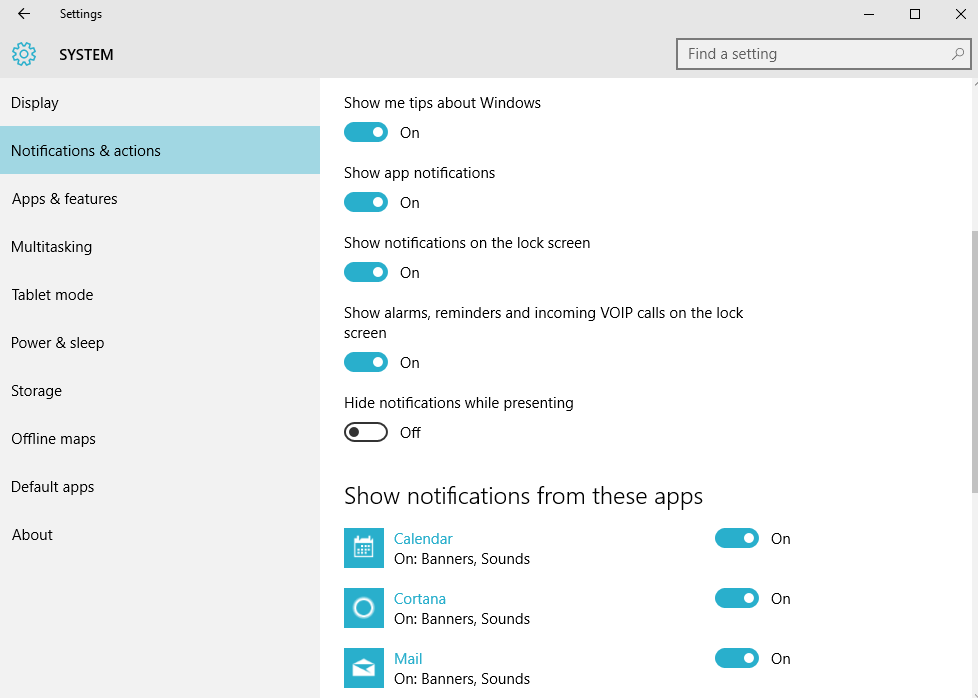 The Notification & actions portion of the Settings app hides many options and tweaks.
To silence all notifications from a particular app, toggle the switch for that app to the "off" position. If you would like to receive some kinds of notifications from an app—for example,  the notification banners but would rather not have an alert sound play, click the name of the app in question. Next, toggle the settings on the resulting screen as you desire. You can disable or enable notifications to suit your needs.
Clear out notifications
After a while, you might accumulate quite the collection of notifications in your PC's Action Center. Clearing them out is easy.
Open the Action Center by clicking the Action Center icon in the system tray. From here, you can delete individual notifications, clear out an entire section, or clear the whole thing by clicking Clear all in the upper right of the window.
To delete individual notifications, click the notification you want to get rid of, and click the "X" button that appears. If you would like to clear out an entire section, highlight the section heading, then click the "X" button.
The PC Club meetings are open to all regardless of computer experience. Bring your questions and we'll try to answer them. Be sure to attend on the 3rd Tuesday of each month at 7 PM upstairs in the Community Center. Remember, July 29th 2016 is the last day to get the free Windows 10 upgrade for your Windows 7 or 8.1 PC.