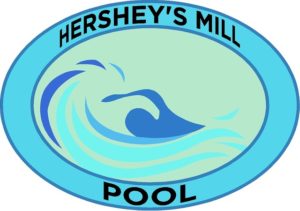 Contact Us
Pool deck # — (610) 692-8437
9 Chandler Drive
West Chester, PA 19380
Pool Manager: Carol Keith
email: hersheysmillpool@gmail.com
Pool Committee Chairperson: Mike Bianco
Pool Event Chairperson: Julie Senn
Pool Hours: Mon-Sat 10:00-7:30, Sun  noon-7:30;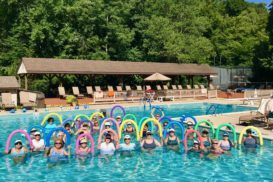 The Hershey's Mill 2019 Pool season is
Saturday May 25 – Monday September 2
10:00-Noon : no one under 18 permitted
Noon-5:00 : children welcome
5:00-Closing : no one under 18 permitted
To review the 2019 Pool Rules, click here.
4th of July at the Community Pool, details here.
Aquacise2019 starts Tue May 28th, see flyer here.  MerSandy will email if class is cancelled.  See pictures of the first week, click here.
– To scroll through pictures of the first day, click here.
–  Gates open at 9:00; Class is 9:15-10:00; Residents only & Class is limited to 40 Merfriends
–  For pictures of the 2018 MerBallerinas, click here. For more, click here.
–  To view the video from the MerFriends 2018 season end party, click here.  This will take you out of hersheysmill.org to Smilebox and requires adobe flash.
Aquafit2019 in the evening, Monday – Thursday, see the flyer here.
Happy Hour at the pool, Fridays evenings at 5 – every other week, starts May 31st, flyer here.
To review the 2019 Guest Fee structure, click here.
Aquacise Fun Facts, see here.  (updated for a rainy 2018)
To reserve the pool for an event, click here for forms. Forms can be requested from the Pool Manager who will secure the date.